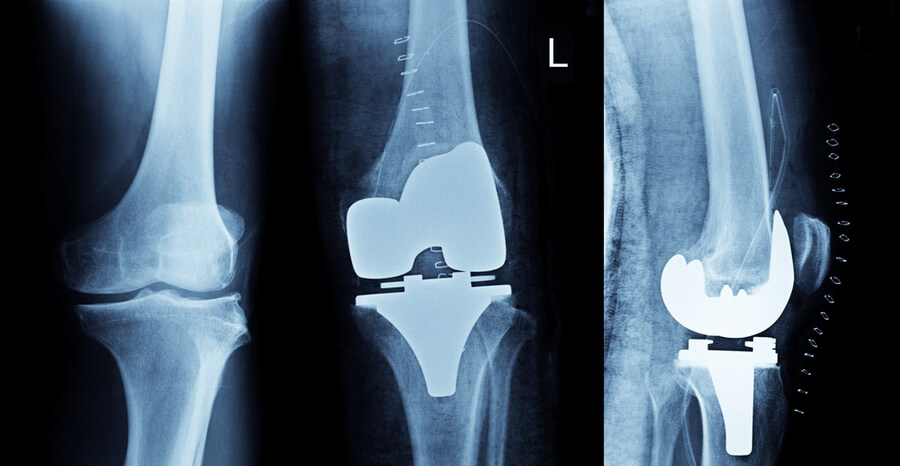 Revision Knee Replacement
Revision Knee Replacement is an advanced procedure in which part or all of a previous knee replacement is revised. This operation can vary from minor adjustments to massive alterations that can include replacing significant amounts of bone. The typical knee replacement replaces the ends of the femur (thigh bone) and tibia (shin bone) with plastic inserted between them and usually the patella (kneecap).
If you would like to learn more about this procedure, contact us today to schedule your consultation.
Why revision knee replacement?
Oftentimes, patients look to this procedure because they are experiencing pain or discomfort due to a previous operation. However, there are numerous reasons to consider revision knee replacement surgery, some of which may include:
To change the plastic (polyethylene) insert due to excess wear
Instability of the knee that causes difficulty walking
Loosening of either the femoral, tibial or patellar component
An infection that is causing pain along with possible swelling or an acute fever
Osteolysis (bone loss) causing further damage to the bone
Stiffness
What can I expect prior to revision knee replacement?
On the day of surgery, patients will be checked in to the hospital. Some patients may have to undergo further testing on admission depending on their condition. Your Anesthetist along with other hospital staff will ask you a few questions. All patients will be provided clothing and a opt to shower prior to surgery. The surgical site will be cleaned and shaved, if necessary, and staff will transfer you to an operating room.
What are some things I can expect during revision knee replacement?
Each knee is carefully evaluated to determine the appropriate replacement size. If there is an excess bone loss, it may be required to implement metallic or additional bone. Surgery is performed under sterile conditions in the operating room under spinal or general anesthesia. Depending on the approach to your surgery will determine its duration. Typically, surgery takes approximately two hours. Please ask our team any questions or concerns you may have regarding your revision knee replacement.
While surgery can seem intimidating, it could be the difference you need to lead a happier, healthier life. Contact us today to schedule your consultation to learn more about this advanced procedure.