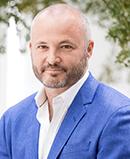 Todd Olsen, D.O. is board certified in orthopedic surgery and specializes in the disorders of the knee and shoulder joint replacement surgery, and sports injuries including rotator cuff repair, labral repair, ACL and meniscus repair.
Dr. Olsen is a Makoplasty certified surgeon and was the first surgeon in the state of Oklahoma to perform the Oxford unicompartmental knee replacement. He is also the first surgeon in the state of Oklahoma to utilize the Oxford Signature internal knee navigation system technology. This technology allows for custom mapping of the patient's knee and instrumentation which is custom made fore each individual patient.
Dr. Olsen is a member of the American Osteopathic Association, American Academy of Anti-Aging Medicine, Regenerative Orthobiologics Registry, American Osteopathic Academy of Orthopedics and Oklahoma Osteopathic Association.
Providing Quality Care
A state-of-the-art facility located in Oklahoma City, Olsen Orthopedics specializes in the treatment of sports injuries, shoulder and knee pain, joint replacement surgery and fracture care. Dr. Olsen is committed to bringing quality care and personal attention to his patients.
Dr. Olsen performs many small-incision procedures including rotator cuff repair, small incision ACL reconstruction, total hip and total knee replacement and unicompartmental knee replacement surgery.
According to Dr. Olsen, recent excitement about small-incision surgery is the result of "continuing advances in surgical technology and techniques. When appropriately utilized, these techniques can result in less post-operative pain and quicker recovery when compared to more traditional, larger-incision procedures."
Dr. Olsen's patients count on him to quickly and safely return them to their active lifestyles while minimizing pain from both injury and treatment.
Education and Training
Oklahoma State University College of Osteopathic Medicine, Stillwater, OK.
Ohio University, Grandview Medical Center, Dayton, OH. Traditional rotating internship
The Graduate Hospital, Philadelphia, PA. Orthopedic Surgery residency
Board Certified 2007
Recertification 2017
Appointments
Consultant and Site Surgeon, Microport Orthopedics
Director of Surgery for Shoulder and Knee, OneCore Health
Director of Quality Improvement, OnceCore Health
Chief Medical Officer, Simplicity Health Care Systems
Former Director of Joint Replacement Surgery, Midwest Regional Medical Center, Midwest City, OK
Former Consultant and Site Surgeon, Biomet Orthopedics, Joint Reconstruction Division
Former Consultant and Site Surgeon, Advanced BioSurfaces, Inc.
Former Consultant, Covidian Orthopedics, Product Development
Director, Custom Health Pathways
Hospital Affiliations
OneCore Health, Oklahoma City, OK
Awards/Scholarships
Healthgrades 5 Star Award in Orthopedics
Nationwide Top 10 in Orthopedics
For all appointments and enquiries, please call 405 733 8000 / 800 317 3206 or click here to request an appointment online.