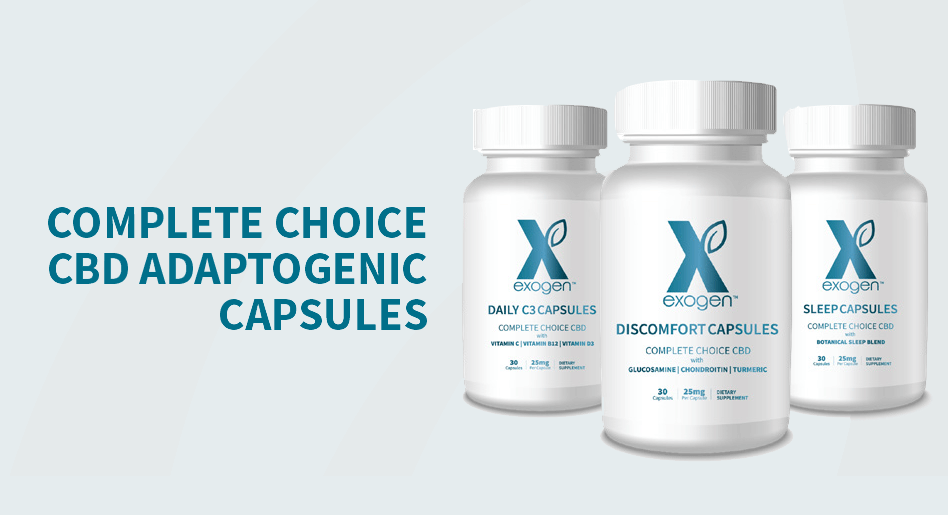 Daily C3 Capsules
This unique and balanced blend of essential daily vitamins and adaptogenic botanical extracts may promote optimum health and wellness.
Vitamin B12 helps boost cellular energy production while Vitamin C and D3 assist in maintaining ideal immune function.
With 25mg of Complete Choice CBD per capsule, you may consider this your daily driver.
Discomfort Capsules
Glucosamine and Chondroitin have been heavy hitters for joint and pain relief for decades.
When combined with Turmeric, C3's Proprietary Herbal Blend and 25mg of Complete Choice CBD per capsule, discomfort seems to vanish.
Regular use may improve joint function and provide natural relief from occasional discomfort due to exercise and overuse.
Sleep Capsules
Sleep caps deliver a synergistic blend of adaptogenic herbs, melatonin and 25mg of Complete Choice CBD per capsule to help relax your body and mind and may help promote sleep naturally.
Our proprietary herbal blend helps the body to detoxify while you sleep so you wake up feeling rested without the morning drag that comes with other sleep aids.
---
Daily C3 Capsules – $85
Discomfort Capsules – $85
Sleep Capsules – $85